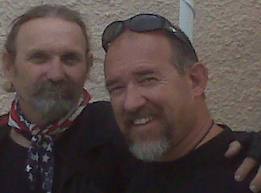 Receive Christ As Savior–This Cell Tower Worker was Ready
Another man has been added to the Kingdom. To God be the glory!
Are you ready to receive Christ as Savior? Here's more about How to do it.
The cell phone tower worker was sitting in his company owned pickup with the motor running. He was busying himself with his computer as he checked out the status of the AT&T tower. The window was open so he was easily approached.
"Do you ever climb these towers?" I began.
"No, and I never want to," he explained.
We talked about the tower for a minute or two until I asked my "Chicken Evangelist" question.
"Have you ever—and this is a personal question—asked Jesus Christ into your life?"
The man smiled. "Oh, sometimes . . ." he answered. "Sometimes . . . " He said it as if he were thinking about it for the distant future. (I really wanted him to be able to receive Christ as Savior. I don't want to see anyone suffer in hell.)
He was a large man yet he began to show a child-like heart. He obviously wasn't sure about much of anything. I could tell he was open to talk so we exchanged names.
 The Good News–Here's How a Man Receives Christ As Savior
"I have some really good news for you, Scooter." I proceeded to share the gospel in as simple but complete way as I could. He listened to it all. When I got to the part about faith, he admitted, "I have trouble with faith. I'm not a faith or feeling person. I go more by facts."
Everyone Who Receives Christ Needs the Historical, Objective Gospel Facts
"Actually, I'm a believer in Christ today because of the facts. I studied to find out if Jesus Christ really rose from the dead. I investigated to find out if the Bible were true or not. I'm a believer now because of the objective, historical evidence that Jesus rose from the dead and the that the Bible is well-attested by historical fact.
Scooter was interested but unmoved. I could tell he wanted to settle some things about Christ and God but seemed powerless to move ahead. He tried changing the subject.
"I've thought about these things–especially the past couple of nights." He explained that storms had kept him awake. I perceived that God was preparing him to make a decision and I told him so.
He delayed. "Oh, I don't know. I don't know…." We talked about what faith is. I explained faith as taking a risk. We don't need to know everything before we invite Christ into our heart. If we have to know everything before we accept Him, we'll never go ahead and receive Him because we'll never know everything!"
This made sense to Scooter and he nodded his agreement.
"We could go one of two ways here. You could get more and more objective information or you could take a risk and receive Christ into your life and see what He will do. I sensed this man needed to take a step of faith, that more knowledge or information would only delay him.
"Scooter, I think you're ready to receive Christ into your life like a little child. I'm going to leave you alone and let you talk to God on your own. Ask Christ to forgive your sins and come into your life Are you willing to pray and ask Christ Jesus to come into your life?" He answered both verbally and with a nod of his head, "Yes, I will."
"Good," I said "and if it's OK with you I'll take and walk and come back in a few minutes and see what's happened."
I took off, retrieved a Campus Crusade for Christ booklet and returned. Upon return he said he had prayed a prayer of invitation to receive Christ Jesus into his life!. I prayed aloud that God would seal the work He had done. I gave Scooter the booklet and told him it had meant a lot to me.
We chatted briefly. Then out of the blue he said, "Things are going better for me. I've lost seventy-five pounds in the last 3 months!" Of course, I congratulated him on that achievement and asked how he did it. We talked some more. I invited him to church, any Bible believing church, since he lived out of town. We both shared how much we had enjoyed talking together and expressed hope to meet again in the future.
NOTES: It never ceases to amaze me how witnessing builds friendships. Invariably after talking with someone who receives Christ (or even talking about Christ with a stranger whether they receive Him or not), people open up and share personal things about themselves. Scooter wanted to let me know he lost 75 pounds! He trusted me with a joy of his life. Many men will share life's woes with a stranger but men tend to share life's joys only with a friend.
What do you think about the fact that God had been preparing this guy by keeping him awake through storms? "I've thought about these things–especially the past couple of nights."  If we are witnessing with someone, we can be confident God has prepared them to receive.
Here's another take on Chicken Evangelism (sharing Christ before you chicken out). Everyone wants to have good relationships. We think we need to build a relationship with someone before we witness our faith in Christ to them. Some folks pray for years for a friend and then try to add Christ to the relationship. That's backwards. Share Christ first and then you'll have a friend.