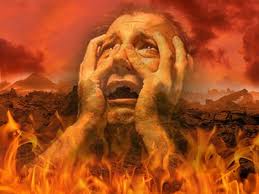 I experienced hell. No place on earth is like it. If we care about anyone, we will do our best to rescue them from the ravages of the devil and his place of torment.
This is part 3 of a series "5 Life-Changing Lessons I learned as a Cancer Patient." Read the introduction "You've Got Cancer!" 
Part 3 "What to Say to a Sick Man?" is practical and located here.
Following my first chemotherapy treatment I was reduced to what seemed like a near vegetable state. I was weak physically, and weaker still in my mind. In a drug induced stupor I was susceptible to demonic attack. As I tried to sleep that first night I felt all hell was turned upside down and poured out on me.  Hideous, evil thoughts I'd never seen or imagined camped in my mind.
I do deliverance ministry. I know how to combat the devil. But this was different. When I called for the blood of Jesus, the devil himself seemed to appear.  I couldn't get free no matter what I tried. What I experienced was the horrendous hatred of the devil toward me and every human being. No words can adequately describe the devil and his hatred. No words can fully prepare a person for the torments of hell.
The next night I came armed with the prayers of my oldest son and the elders of the church. Through their prayers I was greatly protected.
I see now more clearly than ever the need to rescue people from the devil's deception and bring them into heaven. If we care at all about friends, relatives, co-workers we will tell them about Jesus. No feeling should stop us from giving the good news about salvation from hell to people we care about. I say again, if we love someone, let's spare nothing in order to tell them about Jesus and lead them to salvation. (See some posts on this site for simple, empowering ways to lead someone to Christ—it's serious business, but also a lot of fun!)
Hell is neither picnic nor place to go and be with friends. Learn about Chicken Evangelism—bring up Christ before you chicken out. If we love 'em, tell 'em 'bout Jesus now!