SOME EXPERIENCES CAN BE UNFORGETTABLE LIKE THIS ONE
Sometimes I would knock on doors in the daytime, but sometimes it was in the dark of the night. That was how it was the time no one answered the front door of a 31st street house. I had always taught others not to give up, but to try another door. Maybe they don't use that first door. So I bravely headed around toward the back of this house.
IN THE MOONLIGHT I SAW SOMETHING THAT STARTLED ME
A distance away was a large dog. He growled…and then suddenly leaped at me. My heart almost stopped until I saw that he was chained and jerked to a full stop after a few feet.
Feeling safe I stepped up on the porch. Next came an unwanted revelation. That chain was merely caught on a rock, and now that dog came flying at me, leaping past the rock and setting his teeth around my ankle.
I could not move. There I stood looking down as my prayers started going up.
"Nice doggy, in Jesus' name let me loose. Nice doggy, let go in Jesus name" I quietly and prayerfully intoned to his perked up ears.
WHEN HE FINALLY DID LET GO, IT ONLY TOOK A SPLIT SECOND FOR ME TO PUSH THROUGH THAT DOOR AND INTO THE KITCHEN OF A VERY SHOCKED STRANGER 
 "I am so sorry, "I explained to the lady, catching my breath. "Your dog had his teeth around my ankle, and this was my only escape. Please forgive me!"
We both laughed with relief. I was safe, and this was not a home invasion, and I was not a thief breaking into her house.
As crazy as it all seemed, as the situation unfolded, somehow the Lord turned even this around into a great opportunity to witness to this lady.
THIS ACCOUNT IS TAKEN FROM THE BOOK
REACH THEM ONE BY ONE by
CLAIRE H. GOODWIN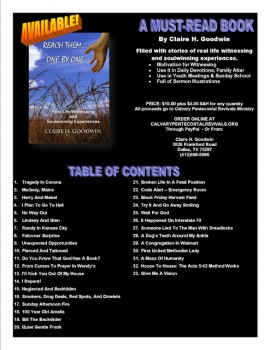 Editors note: Claire Goodwin is an experienced soul-winner with memorable stories to tell. Her book will inspire any one wanting wanting God to use them. You can buy her book at CalvaryPentecostalRevivals.org.
You too can lead people to salvation in Christ. Many people are ready. They just need someone to show them how.
If you have led someone to Christ, tell your story in the comment box below. Your story will inspire others.