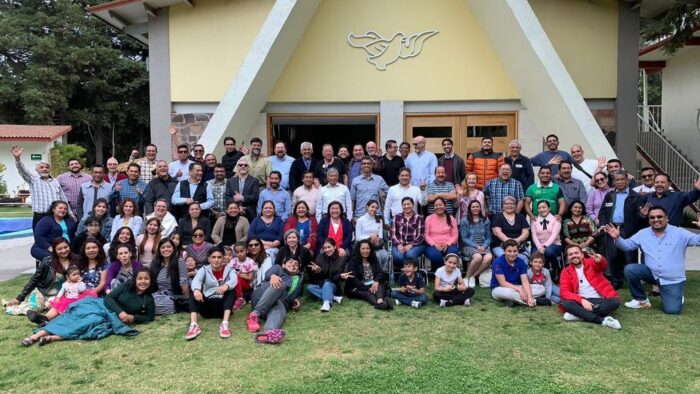 Kari and I just returned from our Mexico mission trip. I will share some highlights and impressions.
This ministers conference results from the ministry of Glen and Robert Ewing. Robert (+2001) was an apostle and church planter who is known for his proclamation of Divine Order truths. He always wanted to work with a team of like-minded ministers. His vision of team leadership for what is sometimes called the "New Testament Churches" is now being fulfilled.
In my estimation the movement is now healthier than ever. (Yes, I know many forms of New Testament churches exist and flourish.) As I told the conference attendees and personally to Eleazar Mendodoza, one of the leaders, I believe this particular stream of New Testament Churches is healthier than ever for several reasons: One, there is now multiple leadership. Two, the leadership is multi-national. Three, so many young people are involved. Four, there is great respect and honor for women and women's service.
Eleazar responded in agreement. He added the fact than members and member churches are showing increasing love and support for others.
Seeing friends and families of co-laborers is always a highlight. Mixing it up with ministers from another country adds breadth and perspective. The same or similar challenges face pastors in Mexico that we face in America. Some Mexican pastors are facing unbelief, persecution and sin in heroic fashion. Churches are growing and healthy.
Jairo Carbajal, well-known pastor and conference speaker, gave a sterling message about the Great Shepherd and how He cares for His sheep. Every pastor and elder will profit from that message. I intend to publish it on this site as soon as I receive a copy in English.
As you may know, I have raised sheep (the four footed kind) for about 30 years and the two-footed kind for about 50 years. I was able to support the Great Shepherd theme by giving practical examples of "What Pastors Can Learn from Shepherds." The title of my talk was How Raising Sheep Molded Me to Be a Better Pastor. Pastors, you might be especially interested in the section "Sheep have to chew their food twice."
What is the forte' of the churches in Mexico? Several years ago Kari and I were enjoying lunch with Pastor Waldo Ceron and his wife Rocio. I mentioned that one of the characteristics of The church in America is independence. "What is the outstanding characteristic of the church in Mexico?" I asked. Without a pause, Rocio responded, "Hospitality!" She nailed it, alright. The Mexican people demonstrate God's love and hospitality to the world in a way like no other. People from all over the world would profit from visiting the Mexican church for this reason alone.
At the communion service closing the conference I got the "goosebumps' in a good way. I knew the Holy Spirit was there. His presence affirmed our union in Christ. It felt good to be united with genuine brothers and sisters from widely divergent nations.
Another trait of the Mexican church is joy. The 4 second video clip shows s moment in the conference when a bunch of people began to dance. Scores more joined in spontaneous dancing before the Lord. Next, separate lines formed for men and women who sashayed around the auditorium in uninhibited celebration.
What did I personally take home from the conference? Perhaps the call to intercession spoke the clearest. No speaker addressed the topic as a major theme (although several may have mentioned it), but I heard the call from the Holy Spirit. Now I need His grace to follow through.
After the minister's conference and while enjoying the hospitality of Pastor Marco and Marissa Mendoza, Kari and I escaped for a walk in the park. The radiant flower in red is my wife, Kari. She is an excellent traveler and conversationalist.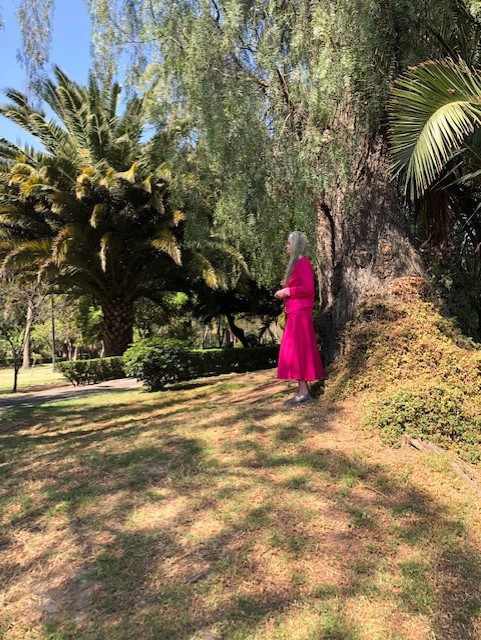 What's the next step?
Let's continue all this good stuff going on. Then let's renew our focus on the Great Commissions. I'm thinking not only of the Great Commission of Jesus recorded in Matthew 28. I'm thinking also of the First Great Commission of the Father, Son and Holy Spirit recorded in Genesis 1.
Be Fruitful and Multiply; Fill the earth and Subdue it. (Genesis 1:27) Wouldn't it be wonderful if every movement, every denomination, every church, every leader in Christendom would model and teach simple obedience to each of the Great Commissions of the Bible?
When we do, it will change the world.