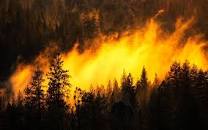 California Wildfires, Puerto Rico Hurricane, and 107 MPH Winds in the Midwest. How Do We Make Sense of these Things?
Could all these be "natural disasters?" Are these the results of "climate change?" Or is there something greater involved?
One thing is for sure. God is getting the world's attention. He's stirring the pot aplenty.
Thee Bible prophets often portray natural disasters as not just natural; they have meaning.
It's the prophets calling to interpret these so-called "natural events" for the rest of us.
Here's My Take
Behind every flood, hurricane, or fire stands a great and loving God who wants the best for His creation. Nothing stands outside His love. So when mind-boggling disasters occur such as the California wildfires, there has to be an exponentially greater disaster ahead. A disaster of eternal and unthinkable dimension.
I'm not a doom and gloom guy. Nor do I speak ignorantly.
Tornado force winds severely damaged our house. Cancer wracked my body, nearly to death. Each left scars, each marked my life.
Nevertheless, I'm here to say that God is good and has a purpose for everything He allows. Even death brings hope for a better resurrection.
When we're going through the onslaught, when we're filled with confusion, when death surrounds us, it's hard to look up. Still, let's cheer up, look up, and find the purpose in it all.
The prophet Amos speaks of famine, drought, tornado, pestilence (would a current translation be virus?) plague, war, terrorism, fire and wind as judgments from God.
But you have not returned to Me, declares the Lord (Amos 4).
All of these seemingly natural events were designed to turn the people back to God so that nothing worse would come on them. Each was a dramatic and powerful call to action: Return to Me!
Jesus weighed in on a natural disaster during His day: Or do you suppose that those eighteen on whom the tower in Siloam fell and killed them were worse culprits than all the men who live in Jerusalem? I tell you, no, but unless you repent, you will all likewise perish (Luke 13:4-5).
Throughout Scripture natural disasters are viewed as calls for repentance in order to forestall or avoid further judgments from God that we bring on ourselves. God is a loving Sovereign willing to do whatever it takes to keep people from the eternal fires of hell and bring people back to Himself.
What Should We Do When Disaster Occurs?
One response is to bring further judgment, "They deserve it." It may be true: They (We) deserve it.
But a better response is to humble ourselves, repent, and call for forgiveness and mercy. In fact, that's what Jesus advised. He basically said, "Repent or perish," even when we are not directly involved. Read Luke 13:4-5 again and see if you agree.
Learn from the Prophet Daniel
Daniel modeled this attitude following the invasion by the Babylonian army into Israel.
I prayed to the Lord my God and confessed and said, "Alas, O Lord, the great and awesome God, who keeps His covenant and lovingkindness for those who love Him and keep His commandments, we have sinned, committed iniquity, acted wickedly and rebelled, even turning aside from Your commandments and ordinances. Moreover, we have not listened to Your servants the prophets, who spoke in Your name to our kings, our princes, our fathers and all the people of the land. Righteousness belongs to You, O Lord, but to us open shame,
O Lord, hear! O Lord, forgive! O Lord, listen and take action! For Your own sake, O my God, do not delay, because Your city and Your people are called by Your name." [A]ll this calamity has come on us; yet we have not sought the favor of the Lord our God by turning from our iniquity and] giving attention to Your truth. Therefore the Lord kept the calamity in store and brought it on us; for the Lord our God is righteous with respect to all His deeds which He has done, but we have not obeyed His voice (Daniel 9).
Why fires, floods and hurricanes? I don't know all, but I do know that in the Bible many natural events were designed to get people's attention. To shake people up. To get us out of our selfishness. To bring us to the breaking point where we have to admit, "There's Someone or Something bigger than us around here.
Is every rainstorm, earthquake or tornado a judgment from God? Of course not.
But God has been speaking to me since about 2013 to "Prepare the people for judgment." Judgments come in many forms. In fact, about 19 different kinds of judgments are mentioned in the Bible. Some ae scary, some are temporary, some are final. But all are true and righteous altogether. By them Thy servant is warned; In keeping them there is great reward (Psalm 19:9-11).
I've been in earthquakes. Nothing like an earthquake to make you feel totally inadequate. It's awesome. In an earthquake a person is absolutely, completely helpless. You can't go up, you can't go down, you can't go out–no time. No place to go. No way to hide. Normal intelligence cannot reason with it. Little wonder, in Revelation 6 people cried out for the mountains and rocks to fall on them. I remember in an earthquake in Portland, Oregon, a woman in our apartment ran down the hallway in her nightgown screaming!
These are days when the pillars of civilization are shaking. Take "knee-time" seriously. Not a time to despair. And when the ashes settle, realize God is speaking–and not with words.
These are days of opportunity. These are days to look up. Take heart. Seize the day. Redemption draws near.