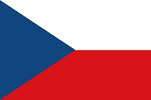 Flag of the Czech Republic
Benjamin is a young man from the Czech Republic. He's strong, vibrant, a real go-getter. My wife met him in his home country and invited him to come to the States to visit us. He came sporting a mohawk haircut and wearing a black leather jacket complete with silver spikes.
We enjoyed each other and Benjamin helped around the house and on the farm.
After about one week Benjamin and our son Matthew met. They are about the same age so they hit it off well. Benjamin and some people from church conversed. It seems a couple of the church people asked Benjamin, "Have you received Jesus Christ into your life?" I don't know what he answered, but he came home and asked, "What does it mean to receive Jesus Christ?"
I did my best to explain, but limited my answer to let him muse over the question.
On their second visit together our son Matthew must have given a clear explanation of the gospel.  Here's how I know.
I will never forget the moment. I was standing by the gate in front of our barn. Benjamin walked directly to me and said, "I just want you to know I received Jesus Christ into my life."
I was so happy for him — saved for all eternity! (I was also happy for our son Matthew.)
Benjamin stayed in our home for about 8 weeks before returning to the Czech Republic. What follows is Benjamin's first email letter after spending time at his home. Note: Benjamin feels strong in Christ and likes to be called "Samson!"
Does Chicken Evangelism work? Read the letter and judge for yourself.
Hello Mark,
Today I would like to send greetings to You, Kari and rest of your family.
God is good and whoever believes is becoming good too.
Life is getting nice here at house of my family, Me and my Mother, we have spoke about Christ few times. Siblings are getting more tolerant, helpful and lovely at all. Yesterday Rachel [sister] told Me about my faith that it's really beautiful. – Amen.
My belief is strong and getting stronger new projects are coming even without hunting them, God is opening doors everywhere.
There is still only one lord over my life. 🙂 Jesus is showing right way even when it's getting harder so I am quite sure that eternal life is working out. 🙂
Love in Christ, Samson.