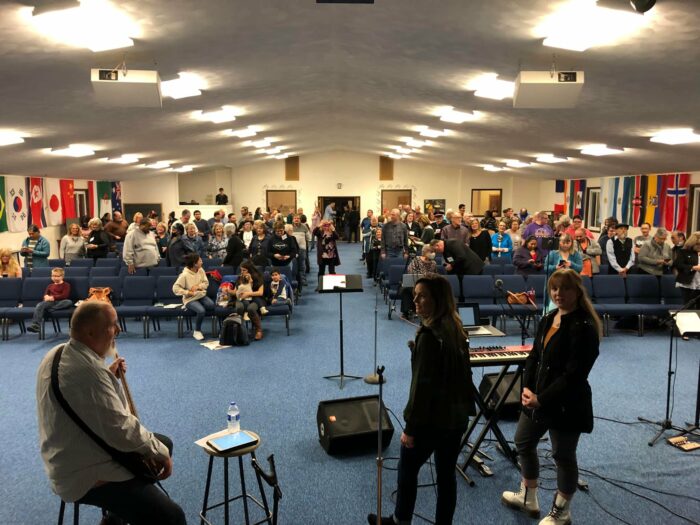 "We felt the joy of the Lord, and people came out more grateful than when they came in," enthused Eriberto and Elena Gomez as they departed the Community in Unity Thanksgiving Celebration.
Success, Success, Success, best describes the event "One Community in Unity '' hosted by the Church of the Living Water of Muscatine on Wednesday. November 24, 2021 from 5pm to 8: 30pm.
This event was the dream of Pastor Mark Anderson to reunite the local churches for a Thanksgiving Eve community service. This dream was brought to life by Pastors Ethan Anderson (Church of the Living Water), Terry Warnstaff (Torre Fuente (Strong Tower) Church, English services, Ray Oehme of the Vineyard Church, and Lt. Greg Brock of the Salvation Army.
The event started with intercessory prayers from 5pm-6 pm lead by Tom Lee of Living Water, assisted by Rev. Kevin Powell of Trinity Episcopal Church and the amazing prayer warrior team of Adam and Noemi Santiago from Torre Fuente Church.
Pastor Ray Oehme from Vineyard Church led a community-based band which provided the praise and worship for the evening.
Rather than a sermon, several local pastors interspersed the outpouring of praise and gratitude with short snippets of Scripture and encouragement.
Pastor Brian Oliver of Wesley United Methodist reminded the churches that "God will supply your needs, the secret is contentment."
LT. Elizabeth Brock of Salvation Army reminded all to let everything that has breath praise the Lord.
Chino Jimenez of Calvary Baptist Church with help from Ethan Anderson got people laughing and reminded everyone that it is okay to be thankful for the little things.
The excitement of unity among the churches coupled with the outpouring of gratitude and praise to God caught up the people in an ecstacy of joy that prevailed over the gathering.
We captured some comments following the gathering:
Denise Williams, "God is good all the time."
Morris Nunn, "It's a blessing to get the community together."
Richard Nazareth, "Loved it, an answer to prayer, denominational walls have fallen."
And Eriberto & Elena Gomez, "An atmosphere of Christian unity, we felt the joy of the Lord,"
The evening ended with an array of pies and cakes for the pleasure of all the attendees. Lori Lotz summed up the attitude of the evening as she experienced the joy and unity of the churches, "We should do this every year!"