I led someone to Christ! (New story submission from website)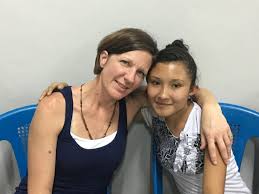 Publisher's note for "I led someone to Christ." Thanks to you, Linda, for telling your story. This is a great example of Chicken Evangelism. Linda is sensitive to the Holy Spirit. And by the way, the photo above is not of Linda and the one whe led to Christ.
While on a retreat at a local Christian Conference Center the Lord allowed me to pray for a member of their kitchen staff. I homed in on her because the Spirit of the Lord revealed to me that she was carrying a heaviness in her spirit and in her sadness she was just going through the motions. She related to us how three family members very close to her had died in less than a years time and that she had not recovered from these losses.
The lady agreed to let me and two of my companions pray for her. I then asked her if she would like to receive Jesus Christ as her Lord and Savior, to which she also agreed. Leading her through the sinner's prayer after having quoted to Her Romans 10: 8-10 gave me great joy as the heaviness seemed to lift from her countenance.  I quickly understood that another soul had joined the ranks of the redeemed of the Lord!