Cancer? Want gentle, non-toxic healing at home?
What an awesome story! This book is RIPE with powerful information that the world needs! In this book Mark Anderson outlines with eloquence a powerful mental, physical, and spiritual approach to building a robust body, a steadfast faith and an overcomer spirit. Mark faced his cancer head-on and beat it by relying on lifestyle principles grounded in science and faith in the healing power of Jesus Christ. Now, he has been called to inspire and empower others to live life at a higher and deeper level and heal the way God intended. This is a must read!

Dr. David jockers, DC, MS, CSCS
This book is a must read for you and your loved ones as it eloquently communicates information about the mental, spiritual , and physical attributes necessary to overcome cancer and live a long, healthy life.

Ty M. Bollinger, best-selling author of Cancer-Step Outside the Box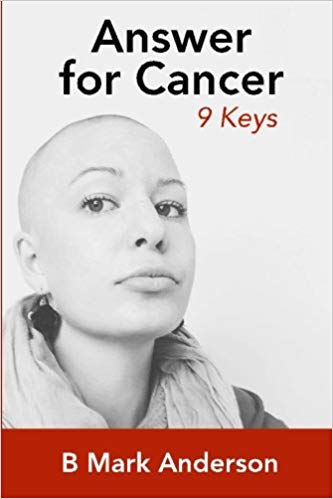 I reread Answer for Cancer and began to practice much of your "protocol." The two blood tests at Mayo since then have shown so little cancer advance. Thank you for publishing a book that has given me a wonderful chemo-free five months and the hope of more.

Paul S., MN
Practical advice…a recipe to prevent and cure cancer.

Edgar M.
A confirmation to those who still don't trust in the miracles.

Joash L., Kenya
Careful research…presented tastefully and often humorously. Believable and practical. It could change the way you do life. Did for me!

Paul Anderson, MN Former Director of Lutheran Renewal Services
Your book was truly a Godsend. So when we got your book we devoured it and began putting into practice both the health advice and the spiritual; it gave us direction as well as hope. It was a beacon of light for us in a very dark and confusing time [when my husband got his diagnosis]. You have my permission to use my comments. So thank you Mark and may God bless you and your family.

Linda, MN
Very informative and researched well. I use some of the same alternative options to maintain my health. I highly recommend this book to grow spiritually as well as to greater understand the healing power that is available.

John Kummerfeld, cancer survivor since 2007
Answer for Cancer: 9 Keys is a resourceful and uplifting book in which Author/Pastor Mark Anderson comes alongside the reader with the warmth and encouragement any cancer patient and his family needs. Having "been there and done that," Pastor Anderson shares from his personal, real-life experiences and wisely balances three main areas of dealing with cancer: medicine, faith, and natural remedies.

Pastor Jairo Carbajal, La Casa de me Padre, Monterrey, Mexico