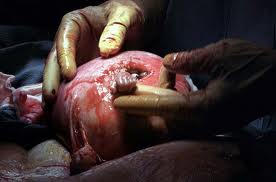 On April 5, 2011 18 murders were committed in Iowa.  All took place at 2751 Tech Dr., Bettendorf, IA 52722.  The murders were done systematically, one at a time.  Records were kept of who did it, but none of the individuals involved have been charged.  All the victims were children, which makes these murders in Iowa even more egregious.
Who were the perpetrators of these ghastly events?  The Planned Parenthood doctors and staff performed the actual killings.
But wait. . .to tell it like it is, you and I were responsible, at least in part.  We have not sufficiently mourned over the killing of infants this close to our homes.
There's a parallel recorded in the ninth chapter of Ezekiel in in the Bible.  The LORD said to him, "Go through the midst of the city. . . and put a mark on the foreheads of the men who sigh and groan over all the abominations which are being committed in its midst." (Ezekiel 9:4)  It turns out  those who grieved over the terrible acts of that day were marked with the sign of a tau, a Hebrew letter written like a cross at that time.  Those who got the mark were spared from death; the others not.
Killing of innocent children is our present day abomination.
We, "good people" all, were accessories to these murders because we have not mourned sufficiently.  We have also voted for such men as Dave Loebsack, Bruce Braley, and US Senator Tom Harkin.  Loebsack represents Iowa's Second District and Bruce Braley, Iowa's First District. These elected officials repeatedly use their legislative powers to promote the culture of death in our state and in our nation.  They justify murder by hiding behind the "reproductive 'rights' of women."  We, the "good citizens" of America, have also elected a president who is so callous that he voted to withhold life-saving nutrition from children who survived botched abortions.
A Spirit-filled person stands for life!  The Bible says, "You shall receive power after the Holy Spirit comes upon you." (Acts 1:8)  The power of God's love is growing in the nation.  Seventy-one percent (71%) of Americans now oppose tax-funded abortion.  We are winning, but the battle rages.  The Spirit-filled life evinces grief over sin and love toward the enemies of life.  The Spirit energizes those He fills to stand for life, lobby for life, and produce life in our own marriages and families.
There's blood on our doorstep. But thank God, the Spirit is moving in our land.  How long the blood stains remain depends in part on you and me.